Casey is a contestant on BFMC. She is portrayed by LstarAnimationz. She is currently in the battle.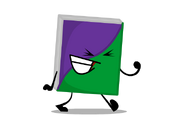 Tribe Switches
Edit
Casey started out in Reimu, but then switched to Marisa a few episodes later. She then switched back to Reimu in 7A.
Good Luck Charm
Edit
Casey was known to be a good luck charm, as when she was on Reimu at first, they kept on winning. When Casey switched to Marisa, Reimu was on a losing streak and Marisa was winning. This status was demolished after BFMC 8B when she was up for elimination.
Challenge 1
Edit
Casey ended up on the Reimu Tribe.
Challenge 2
Edit
Casey's Tribe ended up against the Sakuya tribe.