Dusty is a contestant portrayed by Theelementalraccoon. He was eliminated, but he was brought back by
Paper Airplane
.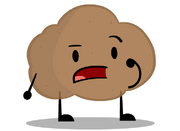 Episode 1
Edit
Dusty did the challenge and was not eliminated.
Episode 2
Edit
Dusty's first attack fails, and is then pushed off by Pencil.
Episode 3
Edit
Dusty got 7/10 on the 'History of 2013' Test
Episode 4
Edit
Dusty opted out at round two, gaining 25 points.
Episode 5
Edit
Dusty guessed Red 4 and got zero points. Dusty was put up for elimination for the first time.
Episode 6
Edit
Dusty earned 20 likes, the most out of his tribe, and 6 dislikes. Dusty had a total of (-14) dislikes and was safe. Oddly, Dusty did not appear at all in the results.
Episode 7
Edit
Dusty got a 20/26 for his idea, the 'Force Token'. It was a blue token with red writing. It took all tokens used at elimination and nullified them.
Episode 8
Edit
Dusty gota 10/10 +1 on the quiz and earned an Immunity Token.
Episode 9
Edit
Dusty earned a Win Token, but was put up for elimination.
Episode 10
Edit
Dusty was eliminated this challenge due to being hit 3 times.