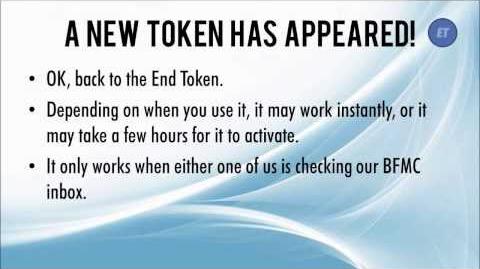 "Create Tokens" is the seventh installment of Battle For Magic City, and the fourth by Nazrininator. There was also a significant delay between 7A and 7B.
New Tokens
Edit
End Token
Edit
When used, the voting period will end for the same tribe as the user.
Nothing can overpower the End Token.
Cirno Token
Edit
When used, the user can freeze any other contestant.
When frozen, the contestant cannot do the challenge.
Elimination
Edit
Likes:
Sunglasses: 34 (Advantage: Bonus points for tribe)
Tetris: 21
Mii U: 7
Picture: 5
Dislikes:
Tetris: 11
Sunglasses: 13
Picture: 15
Mii U: 23
TOTALS:
Sunglasses: (-21)
Tetris: (-10)
Picture: 10
Mii U: 16
Mii U was eliminated with 7 likes and 23 dislikes.
Likes:
Portal Gun: 22 (Advantage: Bonus points for tribe)
Test Tube: 12
USB: 11
Trophy: 5
Dislikes:
Test Tube: 2
Portal Gun: 5
USB: 21
Trophy: 22
TOTALS:
Portal Gun: (-17)
Test Tube: (-10)
USB: 10
Trophy: 17
Trophy was eliminated with 5 likes and 22 dislikes.
Patchouli
Edit
Likes
Fly Swat: 15 (Advantage: Bonus points for tribe)
Pencil: 12
Paper Airplane: 11
Cheesy: 7
Coney: 4
Dislikes:
Fly Swat: 5
Pencil: 6
Cheesy: 8
Paper Airplane: 13
Coney: 19
TOTALS:
Fly Swat: (-10)
Pencil: (-6)
Cheesy: 1
Paper Airplane: 2
Coney: 15
Coney was eliminated with 4 likes and 19 dislikes.
Challenge
Edit
The seventh challenge was to create tokens for the competition. The best token on each tribe (if it got 20+ points) would be put into the game. There were supposed to be three judges (the two hosts and DesuUsagi), but the guest judge could not be reached. Instead, a 6-sided die was used.
Reversal Token: 25 (WT) (RT)
Sunglasses: 20+4
Picture: 18
Tetris: 13
Casey: 2
Milk: DNP
Suitcase: 22 (WT) (PT)
Whistle: 14
Needle: 10
Yin-Yang: 9
Badge: DNP
Ping Pong Ball: DNP
Portal Gun: 21+3 (WT) (LT)
Dusty: 20
Test Tube: 18
USB: 17
Clock: 14
Disc: 12
Golf Ball: 23 (WT) (ECP)
Crayon: 14
Soccer Ball: 13
Boombox: 12
Globe: DNP
Book: DNP
Masky: 22 (WT) (MT)
Kite: 20
Coiny: 14
Asthma Inhaler: 13
Marble: 6
Soap: 4
Patchouli
Edit
Pencil: 20 (WT)
Fly Swat: 19+5 (TT)
Paper Airplane: 16
Cheesy: 15
Propeller Hat: 15
Toothy: 7
Final Results
Edit
Reimu: 82 [3rd]
Marisa: 55 [6th]
Sakuya: 105 [1st]
Sanae: 62 [5th]
Yuyuko: 79 [4th]
Patchouli: 92 [2nd]
Newer Tokens
Edit
Play Token
Love Token
Extra Challenge Pass
Migrate Token
Tornado Token
Reversal Token
Edit
Reverses the effects of tokens
Reversal Tokens cancel each other out (only work when an odd number of them are played)
Play Token
Edit
Allows the user to choose an eliminated contestant to play on their tribe.
The contestant will earn points for said tribe.
Once the challenge is over, the eliminated contestant goes back to the loser box.
When reversed, a contestant on the tribe is randomly frozen.
Love Token
Edit
An Immunity Token that can be used with two people.
Unless both people do the challenge, the likes from the previous elimination are added to the users.
When an RT is used, it sets both of the people's likes to 0.
Extra Challenge Pass
Edit
Can only be used on B episodes.
Allows the user to do a small extra challenge.
Succeeding results in an advantage.
If reversed, the user gets a disadvantage when winning the challenge.
Migrate Token
Edit
Allows the user to switch to another tribe/team.
The user cannot choose which tribe/team to switch to.
Can only be used on A episodes.
Tornado Token
Edit
Takes all of the users likes and dislikes and randomly distributes them among two people.
When reversed, the two contestants' votes are added to the user.
Needle
Yin-Yang
Ping Pong Ball (DNP)
Badge (DNP)
Globe (DNP)
Boombox
Soccer Ball
Book (DNP)
Asthma Inhaler
Coiny
Marble
Soap
The voting was set to end Feb. 2, 2014.