Propeller Hat is a new contestant on Battle For Magic City. He is potrayed by "WhaiJay" and is well known on the forum for being the first one to reach 1,000 posts.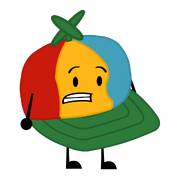 Propeller Hat made an alliance with Lighter and Top Hat, which lasted until both Propeller Hat and Lighter was eliminated. Propeller Hat rejoined at the time where Top Hat was eliminated, ending this alliance.
ChallengesEdit
Challenge 1
Edit
Propeller Hat was one of the people that did not do the challenge. He was then frozen and eliminated.
Challenge 2
Edit
Propeller Hat got a bonus 40 votes for commenting, and got 2nd place in the rejoin, losing to Ping Pong Ball by 1 vote.
Challenge 4
Edit
Propeller Hat, as well as Badge and Soap were chosen to rejoin by naz. Propeller Hat was chosen for technically getting the 2nd to most votes.
Propeller Hat spun the wheel twice and opted out in the 3rd round.
Challenge 5
Edit
Propeller Hat was one of the people who signed up to the forum before the 5th challenge was announced. In the second part, he chose Purple 5, and got 25 points.
Challenge 6
Edit
Propeller Hat chose Dynamite, and lost against Disc, who chose bowl. His tribe was up for elimination, but he was immune.
Challenge 7
Edit
Propeller Hat was the first one to do the challenge, and came up with the Quack Token. "Upon use, the quack token will make a giant rubber duck fall on the contestant of your choice, making them not do the challenge. There is a risk to doing this! If the person has already done the challenge, they will get a tiny advantage."
Naz gave it a 4/10, Retro gave it a 5/10, and the die gave it a 6/6, making a total of 15/26.
Challenge 8
Edit
Propeller Hat got a 6/10, with +1 for getting the bonus question right. He was one of the 4 contestants UFE in his tribe, making this his first time UFE.
Challenge 9
Edit
At the elimination, Propeller Hat got 10 likes, the second most. He got the least dislikes at 4, leading to a total of -6.
Propeller Hat picked J4, the only J that give cardboard, making him get cardboard and being the only Patchouli member not to recieve a token. He was UFE again along with everyone that didn't get a Cirno Token.
Challenge 10
Edit
Propeller Hat, along with numerous others, got one vote and was declared safe.
THIS SECTION IS NOT FINISHED
Propeller Hat was originally going to be Kite.