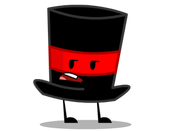 Top Hat was a contestant in 
Battle For Magic City
. He is played by BFMCTop Hat. He is eliminated in BFMC 4A, rejoined in 11B, and is eliminated again in 13A. His user has been banned from all BFMC sites for a year after that.
Challenge Summary
Episode 1: Top Hat successfully did the challenge, getting placed on the Marisa tribe.
Episode 2: Top Hat was knocked off in Round 3 by Asthma Inhaler. He was safe from elimination, even though his tribe was UFE.
Episode 3: Top Hat only got 1/10 in the history test. His tribe lost, and he was UFE (along with Needle, Yin-Yang, and Cherry).
Episode 4: Top Hat got 5 likes and 21 dislikes. This was enough to eliminate him.
Episode 9: Top Hat was given a chance to rejoin for 10A.
Episode 10: Like numerous other contestants, he got only one vote. He still commented, but that didn't help.
Episode 11B Update: After hearing a lot about the Top Hat and Rocky thing, Rocky quit so that Top Hat can rejoin.
Episode 12: Top Hat was placed on Team Cirno, and was excused from the challenge because it was obvious he would get hit the most.
Epiosde 13: Top Hat was eliminated because the people were persecuting him by making videos that they are the same person, and that eliminating him would make people become happy.
Trivia
Top Hat was the first contestant on Marisa to do all of the challenges so far, yet still get eliminated.

Top Hat was the first contestant to be eliminated from confessionals this season.
Top Hat is the first person to have their user named after their character in the camp.
Top Hat was the only one not to be eliminated by voting.
JCL Kaytwo
According to what some people believe, JCL Kaytwo is Joshua K, because they are two different usernames used by the same account. Others believe that Joshua K is JCL Kaytwo's brother, as shown in this forum post.