Yin-Yang
is a contestant on BFMC. His user is Cpinkman3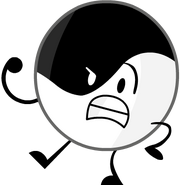 Challenge Progress
Edit
Yin-Yang did the challenge showing activity. He was later put on the Marisa Tribe.
Yin-Yang Did OK In The Balance Beam Challenge. In Round 1 He Shielded Himself, From Nothing. He Then Knocked Down Butter in Round 2. He Was Knocked Down By Kite In Round 3. This Is Also The First Time He Did A Confessional.
Yin-Yang Did Poorly On The 2013 Quiz Challenge. He Got A 3/10, Putting Him Up For Elimination.
Yin-Yang Forgot To Do This Challenge, But Was Not Up For Elimination.
Yin-Yang Signed Up To The Forums, And Chose Blue Two. He Got The Score Of 20, And Was Safe From Elimination.
Yin-Yang Finally Stepped Up In The Game This Time. He Got The Final Round, Even If Placing 3rd, He Got His First Win Token.
Yin-Yang Went Back To Poor And Got A 9/26 From His Active Token. He Was Also Put Up For Elimination.
Yin-Yang Was Safe In Elimination, And Was XQZ'd In The Challenge. He Was The Only Member Safe On His Tribe From Elimination. After All, He's Bad At Quizzes.
Yin-Yang chose A6, earning a second win token.Everybody was UFE this time.
Yin-Yang got 5 votes, being safe.He was excused because of being sick and unable to PM. Even if he was inactive on the challenge, nobody even hit him, being safe and not eliminated. He switched teams and moved to team Cirno to make teams even.
Yin-Yang chose Psycic for the orb challenge. he went against Sunglasses to start with. He ended with ruby beating him. He later will be in BFMC2 or just BFMC after the hiatus.
Due to the hiatus ending, Yin-Yang came back to fight.He was one of the 4 people on his team not to do round 1 of the challenge. He was hit once in part one by Needle. He along with most of his team didn't do the challenge. He wasn't hit during this round of the challenge leaving him with 1/2hp, thus making him safe from elimination.
Alliance Members
Edit
Yin-Yang has been in a alliance with a member that was on his tribe. Because of the pre-merge that contestant is now on the Cirno tribe, not with Yin-Yang prior to the team-evening of BFMC 10B. The contestant is Revealed. Because if the 4 month hiatus I revealed it early.